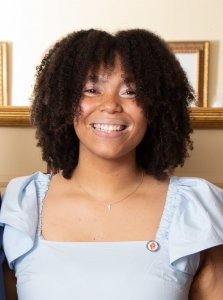 Article from the Johnson Scholarship Foundation: https://jsf.bz/news/reflections-of-a-recent-first-gen-college-grad/ 
I recently said in a graduation speech, "transitions are hard, especially when navigating terrain no one before you had the tools to map out." This one sentence encapsulates my entire first-gen experience. Growing up, I was taught to see value in my education, to view it as an opportunity to be better than my circumstances—an "out." For a long time, I did not have the language to describe myself as first-gen. All I knew was that my mom never went to college, and while I understood how this fact impacted my everyday life, it didn't mean much to me outside of that. I wasn't introduced to the world of first-gen until my first year of high school after being approached by a guidance counselor attempting to recruit me into our Johnson Scholarship Program (now Take Stock in Children/Johnson Scholars Program). So this is a full-circle moment for me. That chance encounter changed my life, and I am beyond grateful for it.
When it finally became time for me to apply to college, I suddenly realized how little I knew about the process. Everything I "lacked" was put on display, and I found myself having to be vulnerable in ways I didn't expect, and at times it was discouraging and overwhelming. Fortunately, I had a program like Take Stock providing me with resources and guidance during the application process. In the end, I only applied to four colleges, the University of Florida being one of them. UF was my first choice. I had never visited, but I knew that it was the place for me, and clearly, UF felt the same because I was accepted and soon after received a full-ride scholarship (thanks, MFOS!).
Although I was excited about this new opportunity, my transition into college was far from easy. I remember constantly telling myself to "embrace change." … Read the full blog here