Written by Holly Battist on July 13, 2021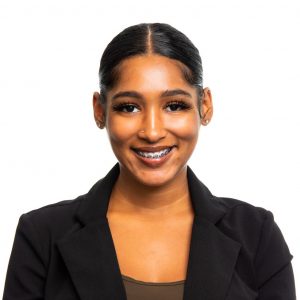 My name is Holly Battist, a rising fourth-year student at the University of Virginia, majoring in Youth and Social Innovation. I remember the day I received the call to intern at the University of Florida and I was so happy to work in a student life space at a top-ranking university. After accepting the position, I was introduced to my cohort of four and we were given job descriptions of host locations to rank. The first one I came across was the Machen Florida Opportunity Scholars Program, which I learned was a program for first-generation low-income students like myself. That's when I knew I wanted to work in their office. And I can say now, I made no mistake.
I have been thrilled to be an intern so far. The MFOS office is not only a space where I felt safe as a first-generation low-income student but in a professional realm too. I've had the opportunity to facilitate new scholar check-ins and craft activities for general assemblies. Both of which have been my favorite. I truly enjoyed talking with scholars and learning more about them and their goals in life. I am a huge proponent of service and building authentic relationships, something I have been fortunate enough to continue while empowering scholars to know they belong at this institution.
Personally, I have learned more about myself and goals that I have for my life. Through mentorship and conversations with Destiny Caldwell, I've surely enhanced not only my leadership and communication skills but presentation skills, which will help moving forward. The entire MFOS office is extremely nice and are always willing to help me with professional aspects like resumes, personal statements, graduate school applications, and more.
To the scholars, I want you to know you are in a safe space and have a support system that will always keep your needs first. No matter the situation, I know that you can depend on the MFOS team and will have the necessary resources needed to be successful. Despite all the obstacles and barriers that students like myself and you experience on a daily basis, I want you to know that you are here for a reason and made it to UF on your own merit. You can do this! I'm rooting for you all the way from Virginia.
Shout out to Leslie Pendleton, Erica Aguiar, Richard Blake, and Destiny Caldwell for an amazing summer and always being a listening ear for me. I really appreciate the support and kind hospitality you offered me from the first day I arrived.